Department of Political Science Announcements
Posted 2/24: Summer Term
The Summer 2021 schedule is live on Course Search and Enroll! There are lots of Political Science courses available. Summer enrollment will begin in April. University-wide summer scholarship applications are now open, as well as applications for the SuccessWorks Internship Fund for summer internships
Posted 2/18: Career Workshops
Monday, March 1, 10am | What Are You Doing This Summer? Exploring Your Options and Strategies for Engaging Summer Work
Summer is a time to regroup from your academic work during the regular semesters. For many students, it's also a time to pick up extra work, participate in an internship, travel, or engage in special programs. This workshop identifies summer opportunities provided through UW-Madison, and elsewhere. Particular attention will be paid to summer internship and related work opportunities, and to strengthening your application materials and strategies for success.
Monday, March 8, 10am | Your Professional Brand: How to Develop and Manage It in your Career Pursuits'
This webinar introduces you to the concept of professional branding for yourself now, and for your future career pursuits. Branding involves thinking carefully about what you value, what you have done and can do, your preferred work styles, and what you seek in your early career path and beyond. We will discuss ways to make branding work for you, including in your on-campus studies and work, off-campus internships, jobs and other activities, in your network-building with alumni and other professionals, and through your social media presence.
To register for either workshop, email Joel Clark at jclark24@wisc.edu. You will receive a Zoom link before the session.
Posted 2/10: Thesis Application
If you plan to write a senior thesis during the 2021-2022 academic year, you are required to submit an application by May 1.  Senior theses are only required for students seeking Honors in the Political Science major.  You are welcome to apply to write a senior thesis if you are not in the Honors program, but a senior thesis is not a requirement of the major.  Here is a link to the application.
Here is a link to more information about what a senior thesis entails, and why you might (or might not) want to embark on such a project.
Please schedule an appointment with Amy Gangl through Starfish if you have any questions.  Amy is happy to talk through the application process and any thoughts and ideas you have for writing a senior thesis next year.
 Posted 2/3: Scholarships
The Political Science Scholarship application portals are up and running.
View descriptions and application links on our website: https://polisci.wisc.edu/scholarships
The deadline to apply is March 1st
 Posted 2/2: Career Workshops
Our campus partners in SuccessWorks have some exciting workshops coming up for PS students:
Wondering about what you can do with your Political Science major after graduation? SuccessWorks has a series of virtual events this spring where amazing alumni from will show you how they found professional success in a variety of fields. These informal group chats are also a great way to learn about how Political Science alumni made the transition from college to career.
Each of the events below feature a professional who majored in Political Science, plus alumni from other majors:
A Taste of Success: Healthcare Technology and Informatics
A Taste of Success: HR, Management & Operations
A Taste of Success: Marketing, Advertising & PR
A Taste of Success: Government
These steps don't always move in a straight line, so Political Science alumni are here for you to help you chart your path!
 Posted 1/25: Advising
Political Science advisors will continue to be available for remote appointments this semester. Schedule an appointment with us in Starfish.
 Posted 1/25: Peer Mentor Advising
Seap Bhardwaj and Sam Epstein, our peer mentors, are offering advising hours this coming week and are happy to chat or email to discuss current and future classes, advice on summer internships, double majors and certificates, career development resources, and anything else that might be on your minds. Links to their virtual appointments sign-ups are provided below. Feel free to email Sam or Seap as well with questions or to set up an alternative time to meet.
See Seap's appointments in a weekly email from Amy Gangl (or email Seap sbhardwaj@wisc.edu) 
See Sam's appointments in a weekly email from Amy Gangl (or email Sam at saepstein@wisc.edu) 
 Announcements from Outside the Department
Posted 2/24: Internships
The State of Wisconsin Student Diversity Internship Program is one of many internship programs offered by the State of Wisconsin and provides racial/ethnic minority students, female students, students with disabilities, and veteran students an opportunity to work in a professional work environment within state government.
The Student Diversity Internship Program provides students with valuable, paid work experience and training in various branches of state government over the summer break. Many interns have gone on to obtain employment in state government as limited term or permanent state employees.
Posted 2/24: Scholarships
The SuccessWorks Internship Fund application is now open! Awards of $1,000 – $5,000 are given to students with financial need to help fund underpaid or unpaid internships, as well as travel and living expenses incurred during an internship. Last year, we gave awards to more than 50 students!
Requirements to apply:
Current L&S student, returning for at least one semester post-summer 2021
Hold a 2.5 GPA or above
Have secured an internship working a minimum of 10/week for summer 2021
Students can apply online via the Wisconsin Scholarship Hub (WiSH) by March 31, 2021. Award winners will be notified in May.
Posted 2/22: Campus Resource
Check out the Academic Support Website, an online hub for learning support at UW-Madison.
On this site, students can search for the various types of learning support they need (like tutoring support or writing support) and then filter tutoring even further to identify units that offer support in specific subjects/courses.
Posted 2/22: Campus Job
The Badger Herald Podcast is hiring team members right now! The podcast aims to inform the audience about current events, voice students' opinions, conduct interviews and offer our own take on various topics.
Click here for more information on open roles and how to apply
Deadline: Feb 28
Posted 2/18: Scholarships
Undergraduate Scholarship for Summer Study
Deadline: April 11, 2021
Summer Finish
Available to students who can finish their UW-Madison degrees by enrolling in summer courses.
Deadline: April 11, 2021
Transfer Scholars Summer Award
Award is automatically applied to the tuition bills of students who transferred to UW-Madison in spring 2021 and enroll in courses in summer 2021.
Posted 2/18: Career Event
From SuccessWorks:
Diplomatic Careers Panel Event
March 1 / 1:00pm – 2:30pm CST
At this virtual panel event, you'll learn from professionals who work in different areas of diplomacy, both in the United States and abroad. Get insights on what these jobs look like, application strategies, and networking tips to get into this field. Participating professionals will be from the Diplomatic Security Service and Foreign Service under the U.S. Department of State and USAID.
Register on Handshake to participate
View participating professionals here
Posted 2/18: Event
On Thursday, February 25 at 4:00 (CT), Caroline Savage will give a virtual talk (on Zoom) on "Promoting US Policy in Eurasia—A Practitioner's View." Caroline is a UW-Madison alumna (MA's in REECAS and Poli Sci), a career Foreign Service Officer who has served at U.S. Embassies in Azerbaijan, Mozambique, Belarus, and Luxembourg, and is currently a non-resident fellow at Georgetown's Institute for the Study of Diplomacy. More information and the registration link are available here.
Posted 2/18: Summer Institute
The University of Michigan will be offering an informational webinar regarding their Summer Institute for Survey Research Techniques (SISRT) and Summer Institute in Survey Research Techniques Diversity Fellowship on Thursday, March 4, at 12PM CST. Advance Registration is required.
The mission of the Summer Institute is to provide rigorous and high quality training in all phases of survey research.
Posted 2/16: Wisconsin in Washington
Wisconsin in Washington Virtual Info Session
Feb 25: 12-1pm on Zoom: Register
Meet advisors and current students of the Wisconsin in Washington program to learn how YOU jump start your career by:
interning in Washington, DC;
completing classwork in domestic & international issues that complement and enhance your internship experience;
taking a course from our Ambassador in Residence;
meeting with UW alumni mentors & professionals in your field
Fall Applications are due March 5
Posted 2/16: Essay Contest
 Posted 2/16: Careers
Intelligence Careers Information Session
A representative of a US Government Intelligence Agency will hold a large-group general information session  from 1pm-2pm (CT) on Monday, 8 March 2021. The focus will be on career opportunities across the Agency, benefits, and details about the application processes.  All positions with this US Government Intelligence Agency require US citizenship and relocation to the Washington, DC metropolitan area.
All participants must be physically located in the United States to participate in this session. To register for this event, please call Emmeline Prattke (the SuccessWorks Career and Internship Specialist for Government, Policy, International Affairs, and Law) at (608) 265-0584 during one of the times listed below, and give your name, phone number, and email address. You will receive an email invitation to the session. We will not respond to registration requests outside of the designated times, or over email.
Friday, February 26th 9-11 am CST
Thursday, March 4th 2-4 pm CST
Posted 2/16: Campus Job
Interested in advising? Love working with other students? Looking for a great summer job?
Apply to join the L&S Academic Advising Service and/or Honors Program to welcome new students to campus and assist with course selection and enrollment.
Applications due March 1. Apply at studentjobs.wisc.edu
Posted 2/16: Essay Contest
The area and international studies centers of the Institute for Regional and International Studies are each awarding up to $1,000 (actual award amounts vary) to the best paper/s and projects written by an undergraduate and focused on their respective world regions.
IRIS Undergraduate Paper Awards
Submission deadline: Friday, May 7, 2021 by 2pm
 Posted 2/12: Student Org
WiscoMUN is a Model United Nations club here at UW-Madison where students participate in UN simulations by debating, collaborating, and writing on foreign policy. This politically non-affiliated club focuses on building confidence in public speaking and creating an inclusive environment for all students, no matter social, economic, or political background. Students are able to create close friendships and attend conferences with one another to show off their skills alongside other schools. Meetings for this club meet every Sunday from 3 p.m. – 4:30 p.m., with additional fun socials monthly. 
If you have any questions, feel free to contact wiscomunteam@gmail.com.
Posted 2/10: Campus Resource 
On-campus spaces are available for students to use to participate in online courses, to study and take online exams. View a list of available spaces. Face coverings and physical distancing are required at all times.
If students specifically need a quiet space to take an exam, they can request an exam room reservation for one or more of their online exams. Computers can also be requested.
Posted 2/10: Campus Resource
The Writing Center continues to operate fully online this semester, bringing students all of the services that we offer when we operate face-to-face. Additionally, we are actively recruiting students for next year's Writing Fellows program.
Posted 2/10: Careers 
2021 Women's Foreign Policy Group GLOBAL AFFAIRS CAREER FORUM registration is now open. The program provides an opportunity to speak informally with international affairs experts to gain practical career advice and to ask their own questions about our mentors' career paths and today's global job market. This year's program will focus on careers in: Human Rights; Global Security, Defense, and Intelligence; International Development; State Department and Diplomacy; United Nations; Communications and Advocacy; and Peacebuilding and Democracy.  Space is limited and advance registration is REQUIRED. Learn more and register: www.wfpg.org/virtual-mentees (Wednesday, February 24th from 4:30-5:30 PM.) 
 Posted 2/4: Student Org
The Wisconsin Journal of Public Affairs is a policy and law magazine and journal for undergraduate students to write and publish articles, memos, and course papers! While we publish articles online every month, we take our best pieces of the semester and create a print journal, of which you can find last semester's edition here. If you're looking to publish papers you've written in class or other kinds of articles, fill out this form here so we can send you more information.
 Posted 2/3: Workshop
The Graduate School and the Division of Diversity, Equity, and Educational Achievement are cohosting a workshop on Wednesday, February 24th from 5-6:30pm for undergraduate students to explore what types of graduate programs may interest them, what to consider when applying, and how to fund a graduate education. After a short presentation, there will be a panel of current graduate students to answer questions and speak to their experiences.
Posted 2/2: Events
The Social Justice Hub has some great events planned this semester! Take a look at their events calendar here.
Posted 2/2: Black History Month
UW–Madison celebrates Black History Month 2021:
Music as Medicine: Evolution of Music in the Black Community
From generation to generation music has been utilized by the Black Community as a form of activism, healing, and freedom of expression. From the use of negro spirituals to uplift the spirits of enslaved peoples, to the arrangement of contemporary hip-hop tracks to call out systemic racism and oppression, throughout generations music has been used by Black people to reflect their internal and external situations.
This year, we will celebrate the theme Music as Medicine: Evolution of Music in the Black Community by presenting a cohesive set of programming designed to highlight the various forms of Black music such as Negro Spirituals, Jazz, Blues, Reggae, Hip Hop/Rap, Gospel, R&B, and more. We will also discuss the influence of those often ignored for their contributions to music, such as women in genres dominated by men.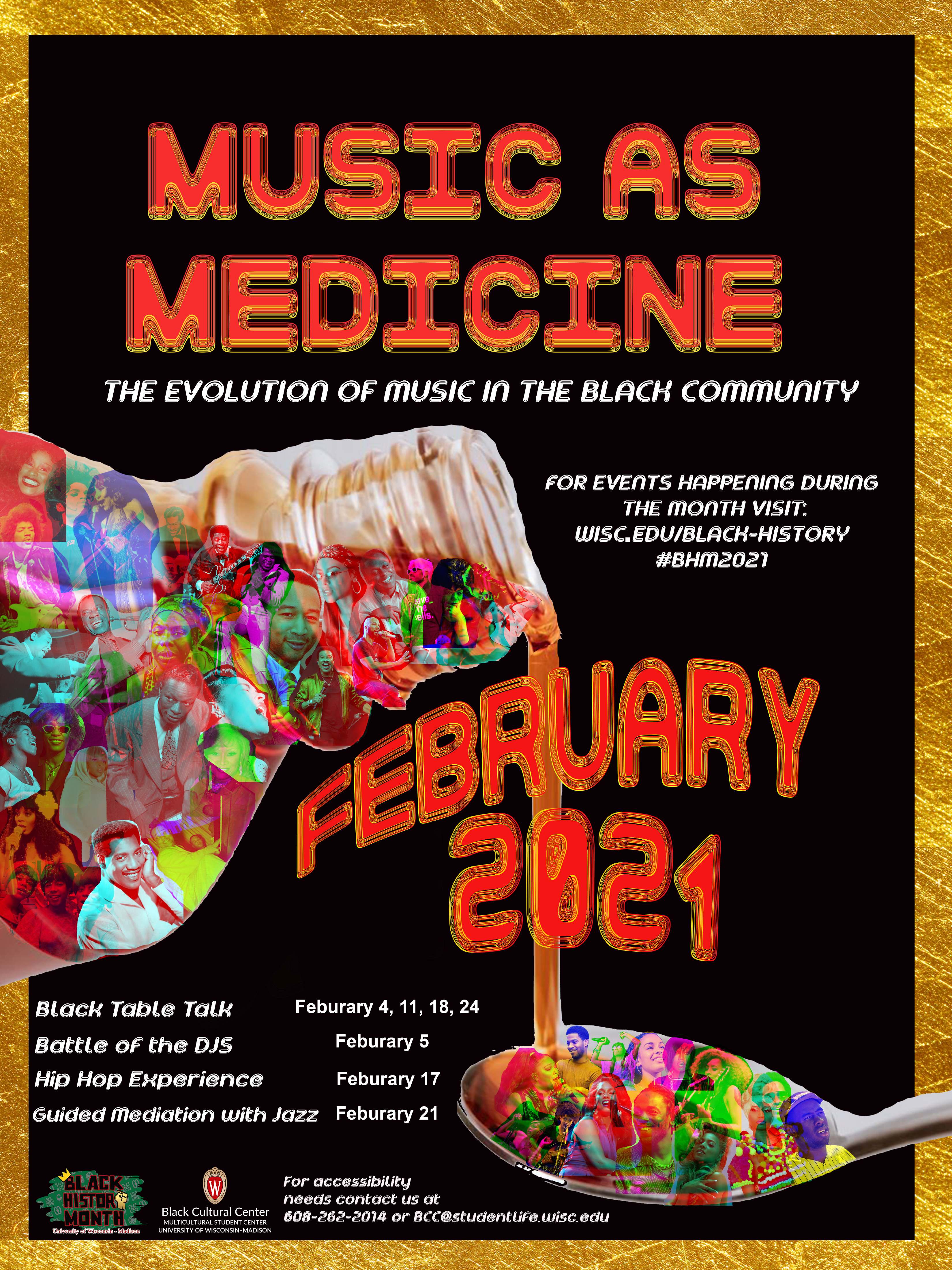 Posted 1/28: Essay Contest
The John Quincy Adams Society and The National Interest welcome entries to their fifth annual foreign policy essay contest for students. The top finisher will receive $2,000 and appear in TNI; two runners-up and four honorable mentions will also be awarded. Entries are due February 28. Full details on the contest can be found here.
Posted 1/28: Major/Certificate
From the Center for Law, Society, & Justice:
 We created this group to help students in the Criminal Justice/Legal Studies programs figure out their schedules, professors, career goals, and make friends with similar interests. It's a student-run group with no obligations. You're paired one-on-one with a mentor that you can reach out to, but in addition, you can attend group hangouts, join group chats with students, and participate in other activities like movie nights, book clubs, etc. You choose what works for you!
Check out our website.
 Posted 1/25: Study Abroad
A note from the Study Abroad Office:
We've updated our virtual advising hours for general study abroad inquiries.
Students can also enroll in our Intro to Study Abroad Canvas course for answers to common study abroad questions.
Guidance for students applying to study abroad while COVID-19 travel restrictions are in place.
 Posted 1/25: SuccessWorks
SuccessWorks' Spring Career Jumpstart includes new virtual programs and events for Letters & Science students to move their career goals forward by building on academic and personal interests.
 Posted 1/21: Fellowships
The Undergraduate Academic Awards Office offers several fellowships to support undergraduate research done in collaboration with UW–Madison faculty or research/instructional academic staff during summer 2021 or the 2021-22 academic year.   
Upcoming Dates and Events
UW Political Science  Media Pages